Testimonials from Users of Our Lights and Gigs

Recent pics received from D. Walker (Florida) of
his light setup and some really nice flounder.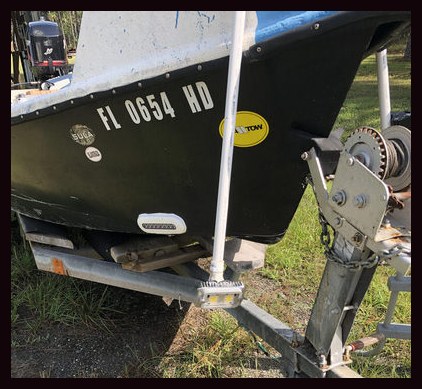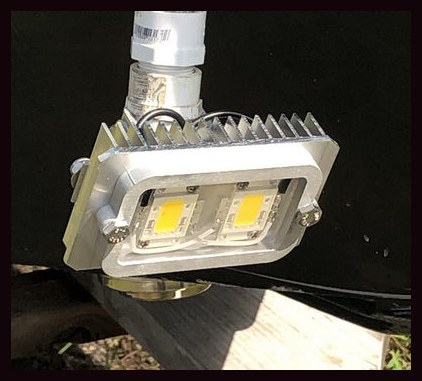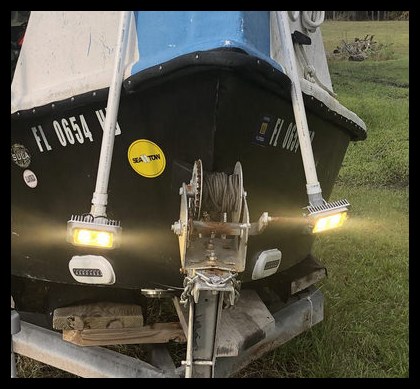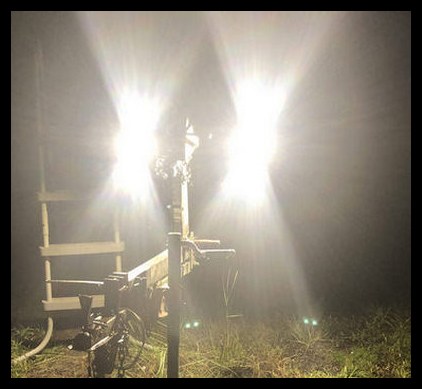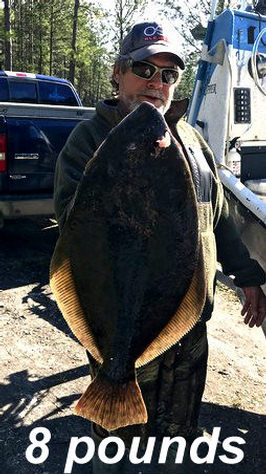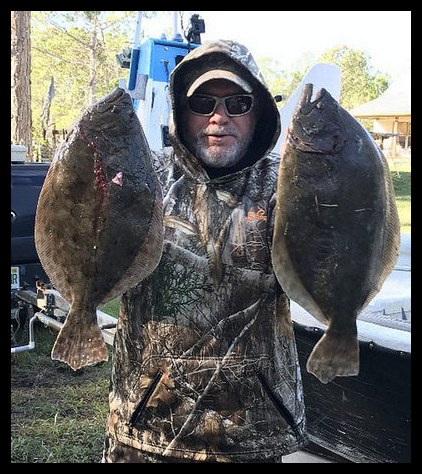 *****************************************



Your FF-5000HD lights did great...! We gave it a shot and made a run to west bay south shoreline (Greens and Cotton). We picked up 9. Oh, I'm also a firm believer in your gigs.... Not one fish was lost due to coming off gig. These new lights fit my airboat perfectly.... You couldn't have done a better job! I was hesitant to spend $1400 bucks on twelve of them, but after meeting and talking to you, I decided to commit. Please feel free to use me as a reference if someone is hesitant and would feel better hearing from a prior customer..... I'm fine with you giving out my number and I will vouch for the lights ....! Photos of my boat are below... (G. Garrett, Texas)
Click on photos above to see complete full size photos of this fantastic boat....!
*****************************************
Sept 22, 2017 --- Finally got a chance to use the new light. Walked 1000 yards of hard sand. Hand picked my 5. Paddled my kayak backed to my Boatright and and was through. Very pleased with the brightness and handling of the light.
( E. Taylor, Texas)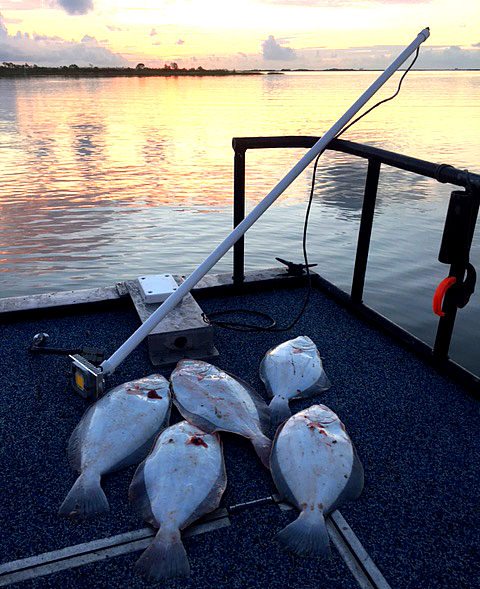 August 14 ... Thanks for making the flounder light. It worked perfect. Lit up the water like Christmas. My gigging partners were jealous. Haha. We were sitting in first and third place in the tournament this morning. Hope it holds up. The light works good for fishing too. Left it on early this morning and caught a red and sand trout on rod and reel .... J. Smith, Texas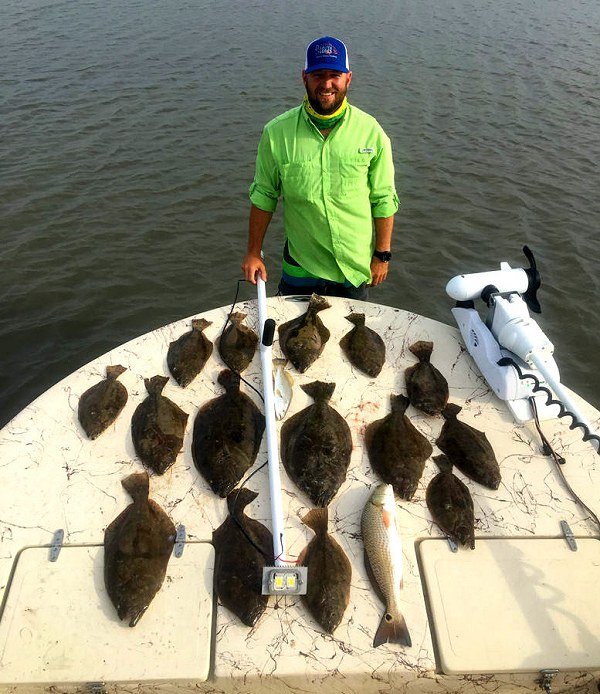 Dec. 2013.....Thanks for your help Robert. These lights work great for floundering. Very happy with my first 2 purchases from gigflounder.com (Troy M., Florida)
August 2012....Hey Robert ....Here are those pictures from our trip! Best investment I have made in a long time! The lights are very bright and the batteries lasted from 8:00pm to 3:30am and they were still glowing bright when we were done! I just could not believe how light and compact everything is! Two thumbs up, and If I had 10 more thumbs, I would throw them up too!!!
A BIG THANK YOU FROM TWO GRATEFUL GIGGERS!! Don and Wade!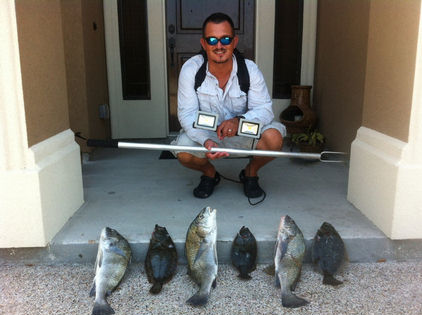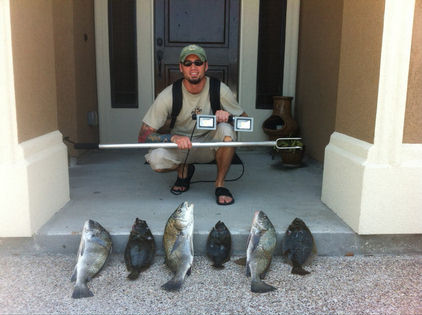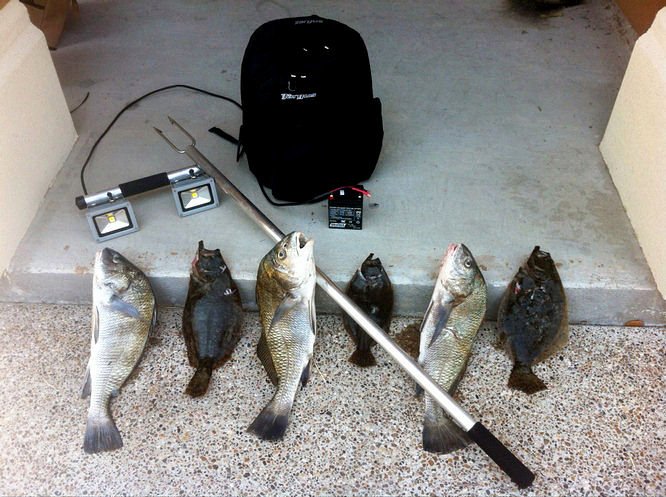 ***********************************************
Best Flounder Gigs on the Market!
Robert, You make the best flounder gigs on the Gulf Coast. As a commercial fisherman (flounder gigger), I literaly cannot afford to miss a flounder let alone have them get off the gig. Let me give the fishermen an example. I was gigging last night in Galveston and got my commercial limit of 30 from 8:30 to about 11:45. I did a little test. The first 3 flounder were with your gig and they stayed on perfect. Then I switched to friends homemade gig. The next 2 barely made it in the boat. They slipped off into the bottom of the boat. The 3rd flounder didn't make it, so I threw it down like Tiger throws his golf clubs and immediately picked up your gig and didn't miss a single flounder the rest of the night. The conditions were soft mud, did not pull off, hard shell, went through and stayed on the gig with your custom barbs. There was 1 flounder that was slipping away and I stabbed at it. Only one prong got him and it stuck with only one barb. That one was the biggest of the night weighing a little over 3 lbs. That flounder was stuck like flys on fly paper.
You are definitely setting the standard on gigs. I believe with your gigs that flounder will stay on with out slipping off and will be the ultimate flounder gigging conservation tool in a flounder giggers arsenal.

Jeff Larson, Texas Commercial Finfish License 810