60 WATT - UNDERWATER LED BOAT LIGHTS

These lights are designed to be used underwater from the front of a boat.
They are completely waterproof. They can also be used above water and mounted to
a front rail system like our other above water flood lights.


Model FF-7000B Underwater LED Boat Lights
(Can also be used as a "walking" light by attaching to PVC pipe)
Features two 30W LED with combined Lumen rating of 7000LM
These are made with USA Bridgelux chips rated at 130/150LM per Watt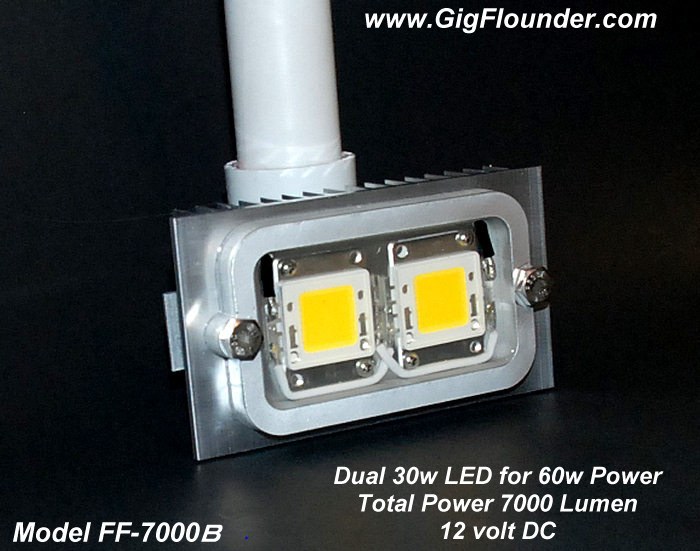 Model FF-7000B Price each $150.00 plus shipping

COLOR: Warm, Neutral, or bright white LED available, 60 Watt, 7000 Lumen, 12 Volt,
Fully Waterproof. Measurements: Lights measures approx. 5" x 3".

Comes fitted with 1" PVC Collar/Coupling for attaching to 1" PVC pipe and 36"
of wire; Mount two, three, or four on lights on PVC bar (inverted "T"),
and raise and lower assembly into water from front of your boat.
Some fabrication required by buyer due to different boat bow designs.

This is the LED light head and attached 1" PVC coupling only.
The 1" PVC pipe shown in photo is not included, and is only intended to
show how 1" PVC can be attached to back of light.

When ordering, update the quantity in shopping cart.
Be sure to read our sales policy before ordering... see below.

Model FF-7000B LED Boat Gigging Lights


$150.00 plus shipping

Model FF-7000B
Warm White Light
(2200-2500K)
Two 30w LED - 7000LM


$150.00 plus shipping




Includes 36" of wire



IMPORTANT: If you intend to use these mainly as ABOVE WATER lights,
let us know when or before you order. We will build
the lights using a larger heat sink to better dissipate the heat.
---
Note: All Sales are Final
(All sales are final unless prior arrangements have been made.
Exchanges for different model light will be considered - buyer pays shipping both ways)
---
Need more information..?



Call us at 979-532-2577
---
Deposit for Orders



Just make a $100 Deposit and Pay Balance when you Pickup Your Order
This is for our local customers...Give Us a Call to Discuss Your Items
and then make the deposit....no Shipping costs charged this way.
Be sure to read
Deposit Agreement Terms
.
NOTE: When making a deposit, please read the
Deposit Agreement
terms with respect to forfeiture of the deposit when items are not pickedup
in a timely manner. By making the deposit, you indicate that you agree with these terms.
---
Underwater LED Flounder Gigging Lights for Boats
We specialize in Affordable, Custom Made Flounder Gigs and Flounder Gigging Lights

---