www.GigFlounder.com - Battery - Charger for Flounder Finder
Underwater LED Gigging Lights


Extend-a-Light for LED Flounder Gigging lights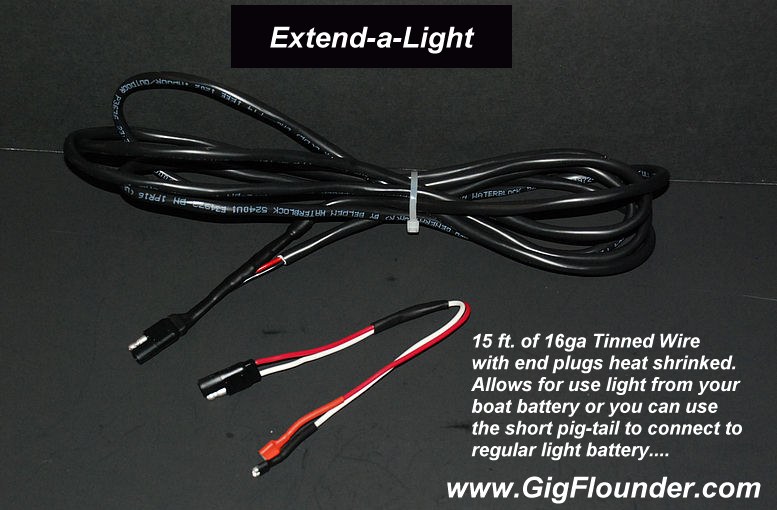 Features 15ft. of tinned 16ga wire to allow
you to reach your boat battery...or... Use the short
"pig-tail" to connect light to smaller battery you carry.
15ft. cord is bare on one end giving you the option to attach ring terminals
or battery clips for connection to boat's battery.

$44.95 plus shipping

Call to order....979-532-2577
We will resume taking Credit Cards Jan 1, 2018
Until then, we continue to accept
Checks and Money Orders...


****************************************

Note: All Sales are Final - No exceptions
(exchanges for different model light will be considered if shipment has not been made)
Deposit for Orders that are to be picked up




Just make a $75 Deposit and Pay Balance when you Pickup Your Order
This is for our local customers...Give Us a Call to Discuss Your Items
and then make the deposit....no Shipping costs charged this way.
Be sure to read Deposit Agreement Terms.

NOTE: When making a deposit, please read the Deposit Agreement
terms with respect to forfeiture of the deposit when items are not pickedup
in a timely manner. By making the deposit, you indicate that you agree with these terms.
---
Return to the Home Page of GigFlounder.comS
This website contains lots of information about flounder lights, flounder gigging, flounder gigs, flounder gigging lights, led flounder lights, flounder boats.
Questions.....